June 8: Boat Breaks Again

Cap'n Eddy has started coffee. All the others still prone - Pete looks like a corpse.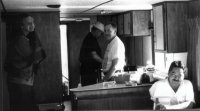 7:15 - all stirring - the Cap'n has started bacon and sausage - beds are made.
7:30 Mike starts cooking eggs.
7:50 - Second coffee and cigarettes - All's right with the world.
8:08 Motor started - dishes washed - coffee pot empty - Derek presently reading from Patrick McManus - contentment rules!
8:14 Cap'n attacked by big bird! Hit in neck - no injuries! Reading interrupted!
8:16 Reading resumed - bird caught by Murray, and returned outside.
Underway to Jackfish Narrows. This trip with all its events the nights have been far from quiet. I nodded off around 11:30 last night - sleep was welcome - There was a quiet thunder coming from the back room - good thing it was far away. Pete and Mike last to hit the sack. The next thing I remember was being startled to death by a chorus of snores not unlike the sound of a bear waking up in spring. The decibel level about that of a 747. Listening and waiting for an opportunity to drift back to sleep went like this. The two main offenders seem to breath in unison and this lasts for about 3-4 minutes of snoring getting progressively violent. Finally they decide to breath normally. I have 30 seconds to get to sleep. Forcing sleep is like getting a fish to bite your hook. It comes when it wants to. I tried on several occasions no luck. Reached over and booted the bed. Hey this had potential. I got about 1-2 minutes of silence. After about an hour I got tired of hitting the bed and fell asleep exhausted. In writing this I now know why my foot is sore this morning.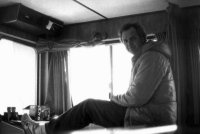 NOTE: Murray is living proof that a skunk can crawl up a man's ass and die. Had to run the Fishin' Magician full out in order to get the crew breathing again.
I have made nothing but $. I only wish my land claims had the same result. We're not sure where Crooked Narrows starts. Once we find it we'll be O.K.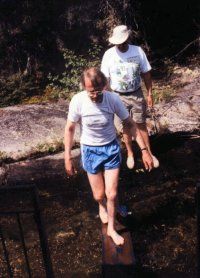 11:23 The boat quit! I think it's a fuel problem. The boys are checking.
11:34 Crew unable to solve problem. Difficulties expressed (bitching, actually) about tools available - kitchen spoon, knife, and pliers . . . obviously engineers not bloody fully capable . . .
11:29 - Awaiting arrival of repair boat. Promised to arrive 1/2 hr ago - crew quiet . . .
Footnote: Guide expressed wish (page back) for land claims settlement - according to Indian history . . . as announce by guide . . . the original people migrate to Russia (present day terminology) across the straits - that being the case, us guys and our ancestors and the original people are related and us guys and our ancestors just came home, and knowing the generosity of the original people it is obvious we the new arrivals (the returnees) must be treated as guests and returning bro's and sisters . . . as obvious, is that no land claim exist, except for the returning relatives . . .
12:50 - I.A. jiggled some wires and we got started - going through Jackfish Narrows - met repairman - stopped and tied up so he could check things out. Repairman (Reno) advised us this was hallowed water and we shouldn't be in here.
1:30 Repair effected - underway - Reno will guide us through the narrows - and then we'll race him back to the dock. Full ahead and damn the torpedos.
1:57 Listing to starboard 8-10 degrees - suspect water in pontoon - expect to arrive at dock before disabled - crew contented . . .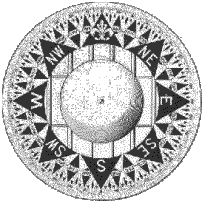 2:14 Let it be duly and confirmedly noted - by decision of Cap'n and Mikey and confirmed by entire crew, we hereby recognize and promote Murray to the critical position of "CHIEF ENGINEER". He also received the award of the "Twisted Spoon" to be worn proudly and with distinction - he is advised to further his education, at least to the extent of increasing the confidence of the crew, by learning some technical terms suitable to his rank beyond "thingme" or "this fuckin' thing" or "son of a bitch" etc. Self funded leave to pursue his education is granted.
Signed:
Cap'n Eddy
Mikey
The Elder
E.D. Ross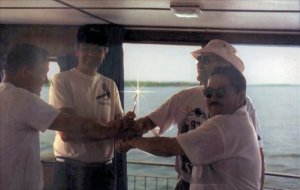 2:35 - Narrowly missed coming to grief. Attempted narrow channel trying to outrace another houseboat that went AROUND the island. Observer in crow's nest calls out "Shallow. REAL shallow." Chopped speed and coasted over ugly brown rocks. Native guide later commented, "I didn't know there was a reef there . . . "
We have arrived! I'm happy and alive.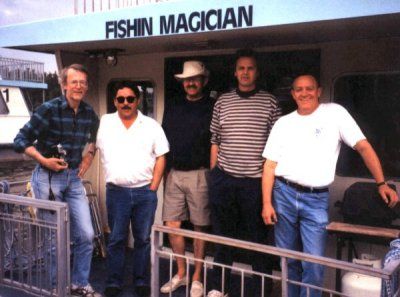 Epilogue


Marine signal flag: "you are standing into danger"
Home &nbsp &nbsp Prologue &nbsp &nbsp Day 1 &nbsp &nbsp Day 2 &nbsp &nbsp Day 3 &nbsp &nbsp Day 4 &nbsp &nbsp Epilogue

about The Webmaster